Bridgton Academy Lacrosse
Head Coach Derek Marshall
Lacrosse Schedule
Lacrosse Roster
Watch Live
Bridgton Academy has a legendary lacrosse program, sending our student-athletes to some of the top programs in the country. Several alumni have captured NCAA Lacrosse National Championships at Universities such as Syracuse University, Washington College, Nazareth, Adelphi, CW Post, Lemoyne, and Salisbury.
Bridgton alumni have also gone on to have careers in Major League Lacrosse and the National Lacrosse League, winning world championships at the highest level.
More recently, BA has seen alums at numerous Division I schools, including Ohio State, the University of Delaware, UVM, St. John's and Providence College. We also have seen recent graduates move onto Dartmouth and other upper-level academic institutions.
Program Highlights
Fall & Spring Schedules against top prep and college programs WITHOUT the loss of a year of NCAA eligibility.
Exposure to NCAA Division I, II, and III college programs through regular season play and showcase events.
Balanced academic and social growth as well as lacrosse development in a structured college-prep environment.
Improve overall academic skills and standardized test scores to present a stronger profile to colleges.
A full year of SQA (Speed, Quickness & Agility) and weight training.
Featured Alumni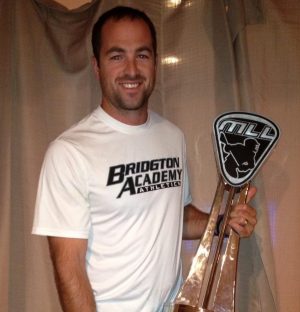 16 Wolverine Alums Have Gone On To Professional Lacrosse
Read 16 Wolverine Alums Have Gone On To Professional Lacrosse's bio
including Steven Brooks, MLL Champion