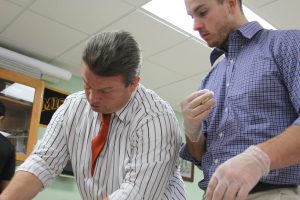 Bridgton Academy enjoys a partnership with Plymouth State University (Plymouth, NH) and Saint Joseph's College of Maine (Standish, ME) which enables eligible students to include college courses in their academic programs at Bridgton. College credits earned through the College Articulation Program usually transfer to the institution in which a student enrolls after graduation – it's a huge jump start for a young man's college career. Approximately eighty percent of our students earn transferable college credit through CAP, and over one hundred colleges and universities have accepted CAP courses for credit.
Currently, we offer fourteen CAP courses:
Composition, Literature, Pre-calculus, Calculus, Accelerated Calculus, Probability & Statistics, Digital Media, Cells Genes & Biotechnology, Advanced Human Nutrition, Introduction to Environmental Issues, Introduction to Oceanography, Plagues and Peoples, Early American Encounters, Introduction to Sports Management.