Bridgton Academy Football
Head Coach Matt Dugan
Football Schedule
Football Roster
Watch Live
Matt Dugan – Head Coach, Offensive Coordinator & Quarterbacks Coach – Springfield College, '12, '15 | mdugan@bridgtonacademy.org | 978-821-2334 | @Coach_Dugs | @BridgtonFtbl
Matt Burgess '88 – Defensive Coordinator & Defensive Backs – Springfield College '92, University of North Colorado '94
Joe Daley '77 – Defensive Assistant – Colby College '81
Jude Lindberg – Linebackers – Wesleyan University '18
Tom Bishop – Wide Receivers – University of New Hampshire '08
Quinn Woods – Defensive Line – Bates College '22
Jack Bryant – Quarterbacks – Bates College '22
Chris Small – Offensive Line -Worcester State University '02, Fitchburg State University '04
---
Competing on the gridiron for over a century, Bridgton Academy Football has a proud past and a storied tradition that continues today. Exclusively enrolling postgraduates since 1965, Bridgton Football has prepared thousands of young men for the next step in their lives – on the field, in the classroom, and in life. The postgraduate year [between high school and college] offers our students an additional year of academic, social, and athletic maturity while maintaining all four years of NCAA Eligibility.
Our schedule includes college junior varsity teams such as Princeton, Columbia, Dartmouth, Bryant University, Endicott College, and the Naval Academy Preparatory School. This competition level allows our young men to gain additional recruiting exposure and college-level playing experience that are second to none.
Among others, our recent football alumni have matriculated to:
Baylor University, Michigan State University, Florida State University, Georgetown University, University of Nebraska, University of Georgia, Marshall University, University of Massachusetts, University of Maine, University of New Hampshire, Holy Cross College, Vanderbilt University, Dartmouth College, Brown University, Columbia University, Bowdoin College, University of Chicago, Colby College, Wesleyan College, and Carnegie Mellon University.
Bridgton Academy has also seen several young men go onto professional careers, and we have two Super Bowl Champions: Jermaine Wiggins (New England Patriots '01) and Victor Cruz (New York Giants '11).
The Black & Grey Showcase
Each December, our Black & Grey Showcase affords our players the opportunity to display their talents in front of college coaches throughout the country. This well-organized and publicized event takes place in the greater Boston area and provides our players with outstanding opportunities to meet one-on-one with college coaches and programs.
Program Highlights:
-Maintain four years of NCAA eligibility
-Exposure to NCAA Division I, II, and III college programs from across the country
-Manage academics and athletic commitments through a structured environment
-Improve overall academic profile and standardized test scores
-Comprehensive college counseling and application process guidance
This is Bridgton Academy Football
The Black and Grey Showcase 2017
Bridgton Football Alumni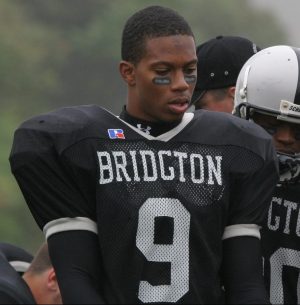 Victor Cruz '05
Read Victor's bio
Superbowl Champion,
New York Giants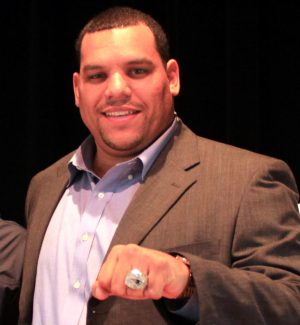 Jermaine Wiggins '94
Read Jermaine's bio
Super Bowl Champion,
New England Patriots