Bridgton Academy Veterans Memorial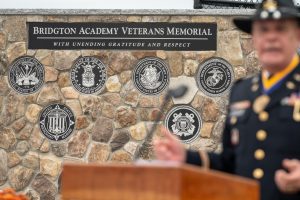 Since its founding in 1808, Bridgton Academy has had a distinguished history of service to the United States Military. Bridgton graduates have been in combat during The Civil War, both World Wars, Korea, Vietnam, Desert Storm, Iraq, and Afghanistan. Some of our Wolverines have graduated from West Point, Annapolis, The Air Force Academy, and The Coast Guard Academy. Many of our graduates have made a career in the military, rising to ranks and honors of distinction. Lest we forget, numerous Bridgton alumni have ultimately given their lives in service to the military.
Bridgton was honored to recently construct and dedicate a new space on our campus—the Bridgton Academy Veterans Memorial—to recognize the service of our Veterans. Located adjacent to the athletic fields, this beautiful memorial includes a stone wall with seals representing branches of the United States Military as well as inscribed commemorative bricks honoring loved ones.
We invite you to come and visit the Bridgton Academy Veterans Memorial, established in the fall of 2021.
Contributions are welcome in support of the Bridgton Academy Veterans Memorial. For those who would like to provide a lasting tribute at Bridgton Academy to a Veteran, whether a Bridgton alumnus or someone special to you, we are offering the opportunity to purchase commemorative bricks that will be installed in the Veterans Memorial. The bricks are available in three sizes (4″ x 8″, 12″ x 12″, and 18″ x 18″) for gifts of $250 and above and include your personalized inscription. To learn more, please contact the Office of Institutional Advancement by email or phone at (207) 647-3322, ext. 2. To move forward with honoring your Veteran, please click here for our brick order form.