We Are Bridgton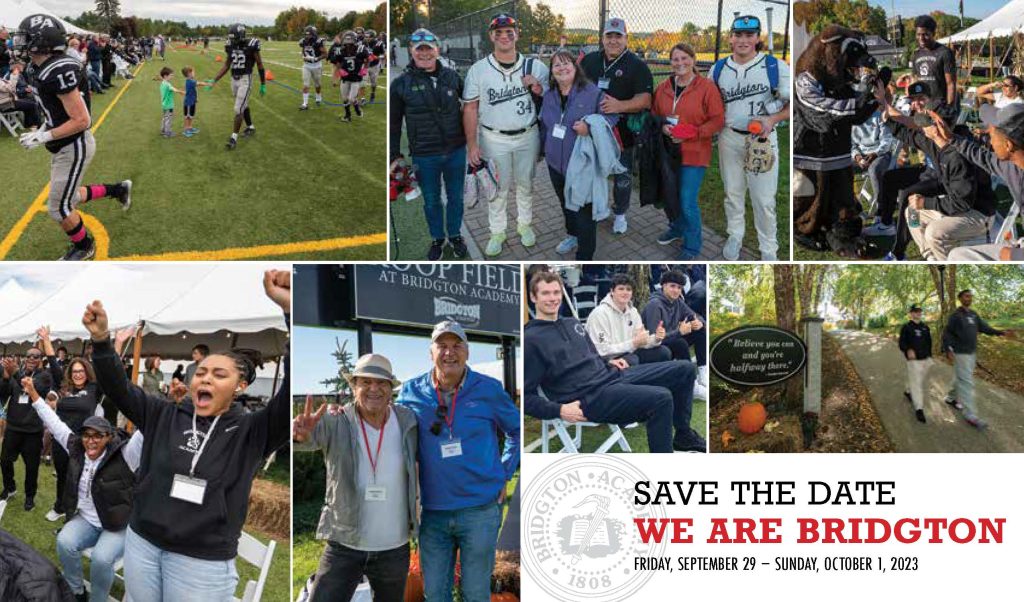 We are Bridgton — Homecoming 2023
Friday, September 29 – Sunday, October 1
To register, please click here or text Homecoming to 91999
Whether you are an alumnus, parent (past or present), or friend of Bridgton Academy, we hope you will plan to join us in North Bridgton for a fall weekend celebration!
For all alumni, Homecoming is a great time to reconnect with your classmates and the Academy, while also offering the chance to relive some of your favorite Bridgton memories and make some new ones! Classes ending in 3s and 8s are especially encouraged to come and celebrate milestone reunion years. Parents will have the opportunity to see their Wolverines settling into life at Bridgton. The weekend lineup also includes the option to attend classes and meet with classroom teachers.
View the full schedule of weekend events here. Confirmed Homecoming activities include the celebrating the 2023 Hall of Fame class, home games for all in-season athletics, and great food under the Homecoming tent, just to name a few.
Whether you are an alumnus, parent (past or present), or friend of Bridgton Academy, we hope you will plan to join us in North Bridgton to celebrate "We Are Bridgton" this September! To register, please click the link or text Homecoming to 91999.
There is no better time than this fall to make your plans to visit North Bridgton— we look forward to celebrating "We are Bridgton" with you!
**Area accommodations fill up quickly! Click here for a list of lodging options.**
__________
What is it really like to serve as a Class Representative?
Find out what two recent "Class Reps" have to say: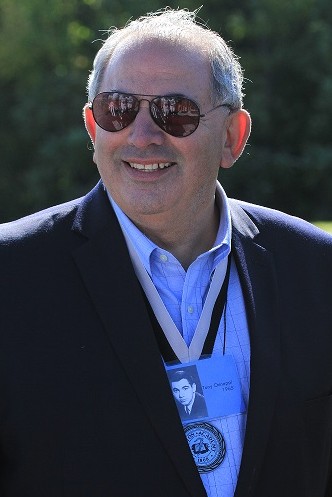 Tony Chinappi '65
Read Tony's bio
I truly enjoyed my involvement as a Class Rep in the preparation of our 50th reunion celebration. At first, I will admit that I was uncomfortable with the idea of serving as a Class Rep, but working in close coordination with Bridgton's Office of Institutional Advancement, and with the encouragement of our classmates to get involved, it resulted in a very rewarding and memorable endeavor. Reconnecting with classmates after 50 years is an incredible experience. In most correspondences, it seemed like no time had passed at all. For me, Bridgton was truly a life changer, and I am proud to have played a role in helping to bring our '65 classmates together to celebrate this milestone year and occasion.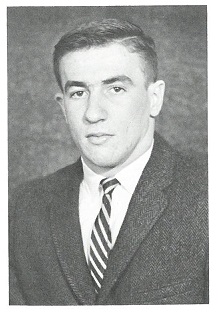 Tim Armour '67
Read Tim's bio
When you think of 50 years and the time you spent at BA, it is hard not to think of the guys, the year, and the hundreds of stories that go with it. Serving as a Class Rep gives us the opportunity to reconnect and do something meaningful together again as a class. The best part, though, was reaching out to classmates. It was just like yesterday in terms of our relationship and was an amazing experience that I really enjoyed. Many of the guys I called I had not seen or spoken with since our graduation day, but everything seemed to melt away and it was like we were back in 1967. Certainly, it hits home to realize classmates are gone. The success of the Class of '65's 50th celebration impressed and inspired me to see what our class could also do to leave a gift in our name to the Academy. Mike Doyle – my '67 classmate and best friend – and I got to talking about it, and we thought a multi-sport scoreboard was a goal we could reach financially since the school was working on major improvements to its athletic facility. It became especially enjoyable once we got Tim Braun '67 and George Reid '67 on board to help. Together with BA, we put together a road map of how to reach our goal. Of course, we are really proud of the 50-year reunion gift that our class gave our Academy.