Wolverine Adventures – 2014 Alumnus Hits the Road
November 20, 2020
Michael English '14 had often daydreamed about biking across the country.  Several of his relatives had made such a trek, and it was an idea that he was always intrigued by, even as a child. When the gyms closed in Massachusetts due to the pandemic, Mike wanted a way to stay active and picked up biking as a way to stay fit. Soon, a couple of Mike's high school friends began to tag along for his bikes in and around Boston. While they pedaled, the idea formed of doing a cross-country trek in support of juvenile mental health awareness and suicide prevention, a cause important to the three friends.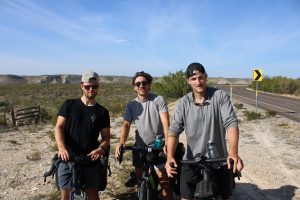 Just over a month ago, the Arlington, Massachusetts, natives departed from Jacksonville, Florida, with the goal of riding across the country to San Francisco, California. Michael, who works as a real estate agent in Boston, left the creature comforts of home behind to go on this unique adventure. Mike serves as the navigator for the trio who, to date, are close to halfway through their trek and currently making their way across the state of Texas.
"It's been pretty amazing so far," Michael shares, while camped out for the evening in Sanderson, Texas. "We've been riding about 65 plus miles a day. The last few days have been some of the most remote in terms of geography." Michael shares that they have met a number of really interesting people on their trek to date, including other cyclists on cross-country ventures. Strangers have offered helping hands along the way, including yards to camp in, warm meals, and words of encouragement.
"Most of our meals have been in gas stations," Mike confesses. "We don't carry a lot—plenty of spare parts for breakdowns, which seem to happen every day. We've gotten pretty good at being bicycle repairmen." The COVID-19 pandemic has also created a certain amount of challenge for the group's journey as well. "We are doing our best to be safe and careful," Mike reports. "Some areas we will bike around and avoid entirely, depending on how safe they feel." It's been a very interesting way for this Wolverine to see new parts of the country firsthand. Early in their trip, the group found themselves in Mississippi in the direct path of Hurricane Zeta, taking shelter in a hotel until the worst of the storm passed and seeing the devastation first hand the next day when leaving the area. Michael was somber in reflecting about several towns they passed through in Louisiana that had been pummeled by recent storms. "People there were just starting to rebuild, and then they were hit by another storm. It was just devastating," Michael shares.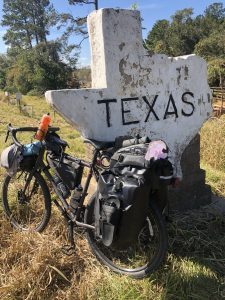 The group hopes to complete their 3,200-mile journey by Christmas, leaving themselves a bit of time to explore interesting destinations along the way. Michael is particularly excited to see some of the areas around the Grand Canyon and the well-known national parks out west. Right now, every day for this 25-year-old is a new adventure. "Now was the time for me to do this," he affirms. "The support from home has been really tremendous, and that means a lot." As this Wolverine continues to pedal west, we look forward to continuing to follow his journey. "I do miss my dog," Michael admits. "And, I promised my mom that I would be home for Christmas."
To learn more about this trek, visit https://linktr.ee/ride_for_recovery.