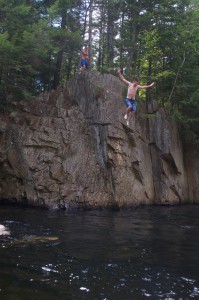 For over 207 years Bridgton Academy has been unmatched in preparing young men for the rigors of college and beyond. In doing so, we have learned that for boys, learning styles are varied and their entire world is a classroom.
Sometimes the most amazing learning doesn't take place solely in the classroom. Combine this with the fact that Maine has been long associated with outdoor recreation and education, and you have been gifted with a perfect world of discovery right outside of your front door.
The Wolverine Program is designed for those students who do not intend to pursue a varsity sport during their time at Bridgton Academy, yet still want the challenge and camaraderie of being a part of an integral team and community here on campus. It will introduce young men to experiential learning in the world that surrounds us. Students participating in the Wolverine Program will be immersed in a year-round, out-of-the-classroom curriculum focused on team-building, personal growth, courage, grit, and responsibility – similar aspects that we also foster in our team sports. It ensures that when a student enrolls at Bridgton Academy that he has a group of people to identify and share experiences with—the struggles and successes—whether or not they join one of our sports programs. It ensures that each student at Bridgton Academy is a Wolverine.
The Wolverine Program is in place to make sure that each student at Bridgton Academy is challenged both in and out of the classroom, so they are ready to be successful in college and beyond.
It's not just the classroom, court and field at Bridgton Academy – it's the whole world outside our door. The Wolverine Program utilizes a vast array of locations, resources and experiences to its fullest all year long. The Program caters to our students who do not plan on participating in one of our Varsity athletic programs, focusing instead on giving them other opportunities to challenge themselves, whether in the great outdoors or other unique settings.
Bridgton Academy understands that athletics aren't the only way to teach team-building and to reward hard work; so the Wolverine Program highlights the myriad of other ways in which a young man can prepare himself for the rigors of college and beyond – whether it's scaling a mountain or simply seeing how many different toppings can be put on the perfect hamburger.
Wolverines will often find themselves outside, and perhaps out of their comfort zone, as they navigate their way around the beautiful Western Maine mountains and New Hampshire's White Mountains. Maybe they'll spend a weekend at Bridgton Academy's rustic cabin on nearby Stearns Pond, learning to cook their own meal on a campfire. Perhaps they'll be heading down to Portland to visit the Portland Museum of Art – or even just taking in a Portland Sea Dogs baseball game.
A sample of activities the Wolverine Club experience includes:
Community Service
Cooking
Sampling Barbecue throughout Maine
Skeet Shooting
Ropes Courses
Ice Fishing
Hiking/Winter Hiking
Trips to the Academy's Outing
Club Cabin
Visiting Maine Fairs
Historic Site Field Trips throughout
New England
Gettysburg Field Trip
Time in Bridgton Academy's Art Studio
Ziplines/Outdoor Adventures
Sporting Events
Skydiving