Soehren '22 Honored by National Football Foundation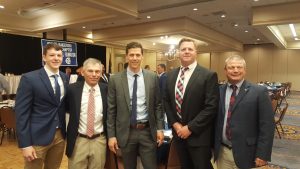 On May 22, Atticus Soehren '22 was honored by the Howard Vandersea Maine Chapter of the National Football Foundation (NFF) with one of their 2022 Scholar-Athlete awards. The National Football Foundation recognizes student-athletes who embody excellence and integrity on the field, in the classroom, and in the community. Atticus's performance as a Wolverine distinguished him as a worthy honoree this year, earning the Faculty Award and the Dr. William Holt Award for Mathematics at this year's Commencement in addition to this honor from the NFF. He was joined at the ceremony by several Bridgton alumni with significant roles in Maine football: University of Maine Head Coach Jordan Stevens '06, Husson University Head Coach Nat Clark '96, Husson University Linebackers Coach and former Bridgton faculty member Ed Mestieri '71, and Coach Matt Burgess '88. Atticus will attend the University of Pennsylvania next year where he will trade in his football for a javelin as a member of its Track and Field team.
Congratulations Atticus!