Honoring the Women of Bridgton
March is Women's History Month and we couldn't think of a more fitting way to mark the occasion than by sharing the stories of just a few of the incredible women who have left an enduring legacy at the Academy. From positions in the World Health Organization (WHO) to the postmaster's office in North Bridgton, these alumnae have long served as an inspiration to our community.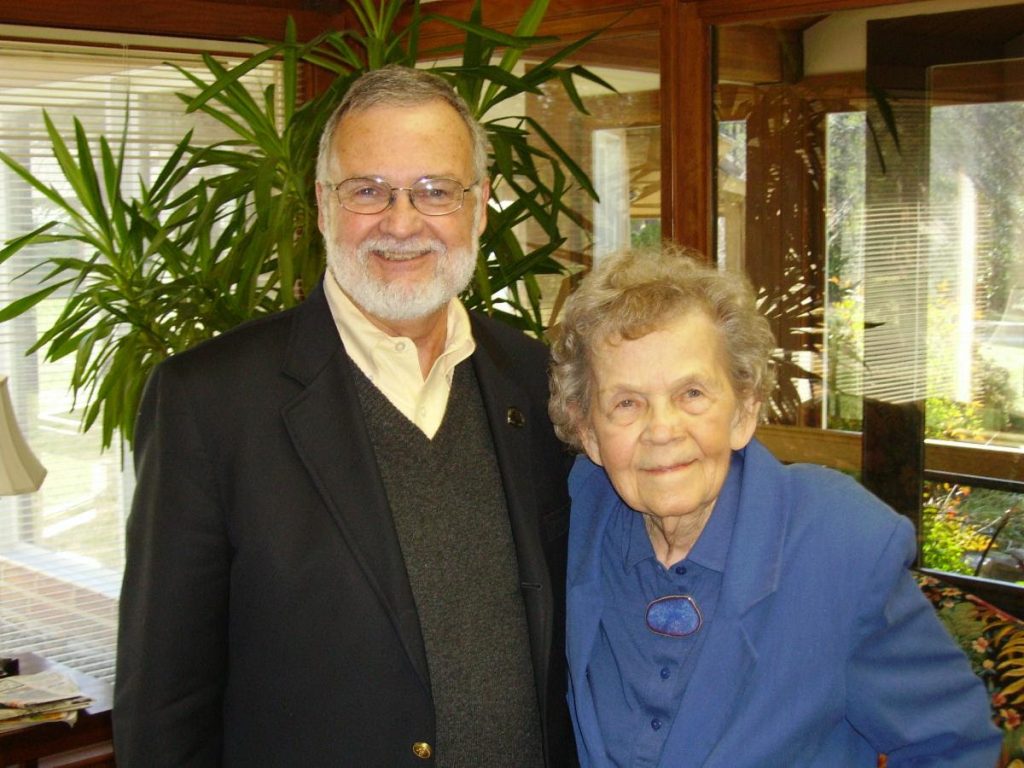 Dr. A. Helen Martikainen '35 first earned her diploma from Bridgton before continuing her education at Bates College (bachelor's degree), Yale University (master's degree), and Harvard University (doctorate). A renowned public health leader, Dr. Martikainen served as the first-ever Chief of Health Education for the World Health Organization, a position she held until she retired in 1976. Her crucial work to advance health education and outcomes was honored by several prominent organizations during her lifetime, including with the International Award for Excellence from the American Public Health Association, the Benjamin Elijah Mays Award from Bates College, the Women of Distinction Award from the North Carolina Council of Women's Organizations, as well as the conferral of an honorary degree from Bates College and Smith College. Dr. Martikainen was the first woman and the just second American ever to receive the Parisot Medal, awarded to an individual with distinguished service in the field of health education. Dr. Martikainen was also inducted into Bridgton Academy's Hall of Fame.
Pictured above former Head of School David Hursty with Dr. A. Helen Martikainen '35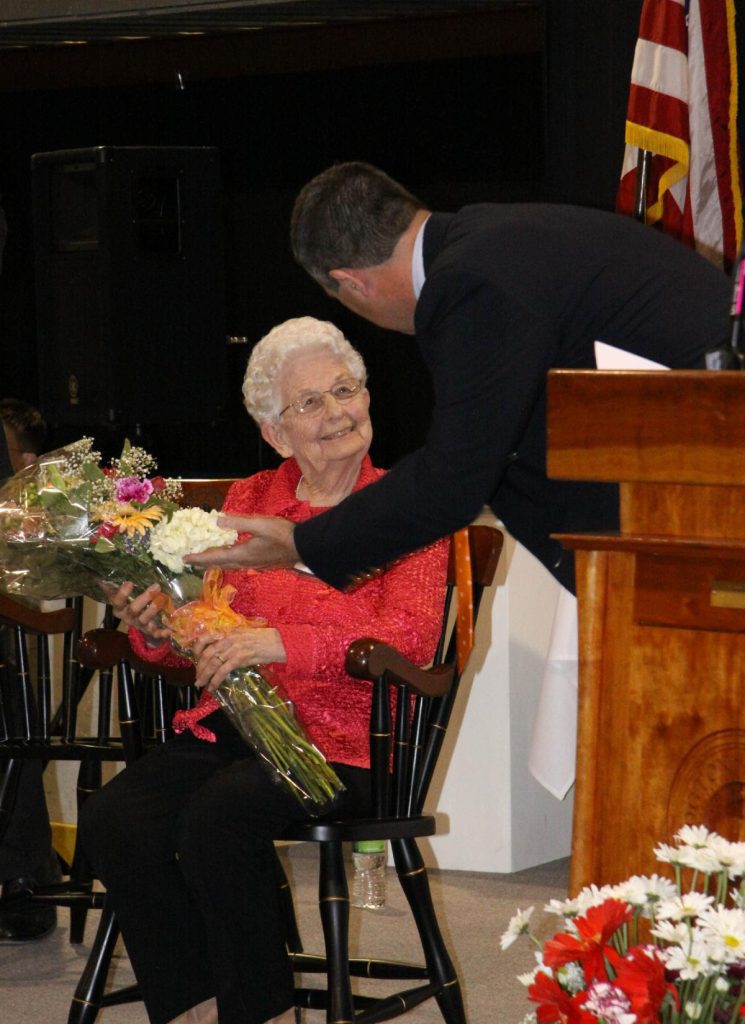 Ms. Phyllis Wakefield Adams '46 & '10 was originally a member of the Class of 1946; however, personal and family circumstances prevented her from finishing her senior year at the Academy. The completion of her studies remained a lifelong goal, and in 2010 Ms. Wakefield Adams crossed the stage at Bridgton Academy to accept her diploma, 64 years after her anticipated graduation date. She was greeted by a standing ovation from her fellow graduates from the Class of 2010. During his benediction, alumnus Jarrell Greene shared "I leave here with 150 new brothers and one new sister." Today, the Phyllis B. Wakefield Class of '46 & '10 Award is bestowed upon a deserving student at Commencement and is a testament to her tenacity, resilience, and drive to overcome adversity.
Pictured above Ms. Phyllis Wakefield Adams '46 & '10 at Commencement in 2010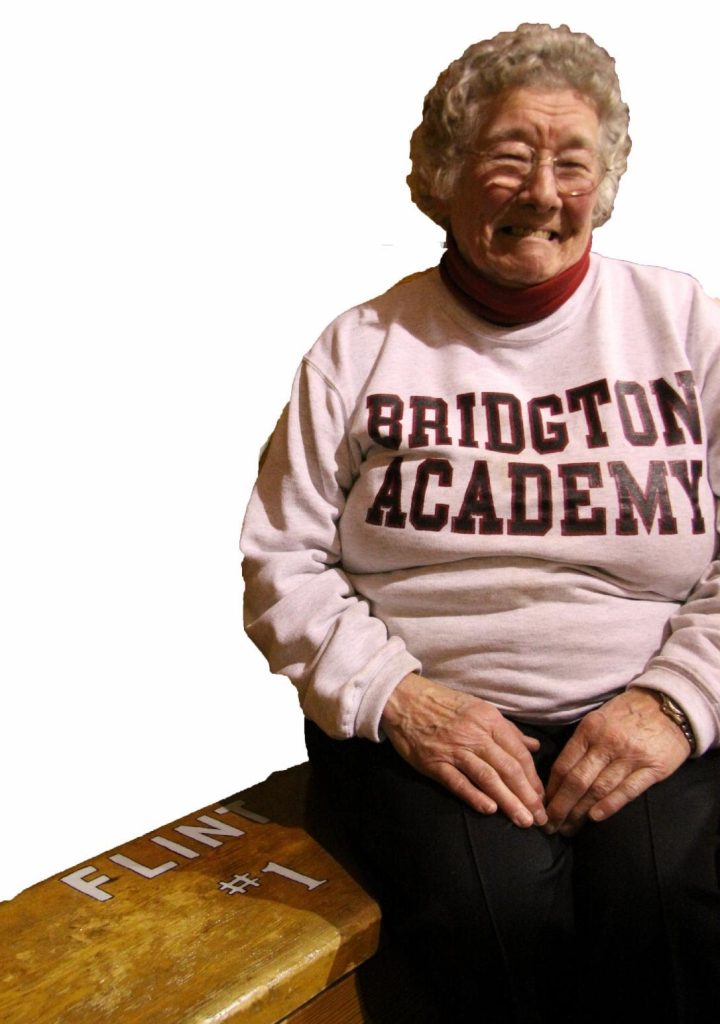 Ms. Martha Flint '52 was a regular presence on campus, one of the Academy's staunchest supporters, and an inductee into Bridgton's Hall of Fame. In addition to serving as a class representative from the time she graduated in 1952 until her passing in 2011, Ms. Flint was frequently spotted mingling with students, faculty, and staff in the Goldsmith Dining Hall, as well as cheering for the Wolverines at athletics contests. Her work as North Bridgton's postmaster from 1981 until 1995 further enabled her to be a steady participant in campus life. Her presence can still be felt on campus today through the "Flint Award," which Ms. Flint founded in honor of her mother, Annie R. '28 and her brother Horace A. Jr. '53. This graduation award is given to the student "who has improved in study habits, academic performance, general attitude and concern for the Academy." Additionally, visitors to the Academy have the opportunity to reflect on the impact Ms. Flint has made on the community by stopping by the memorial that bears her name on the path between upper and lower campus.
Pictured above Martha Flint '52 in her seat at the Wolverdome