Head of School Search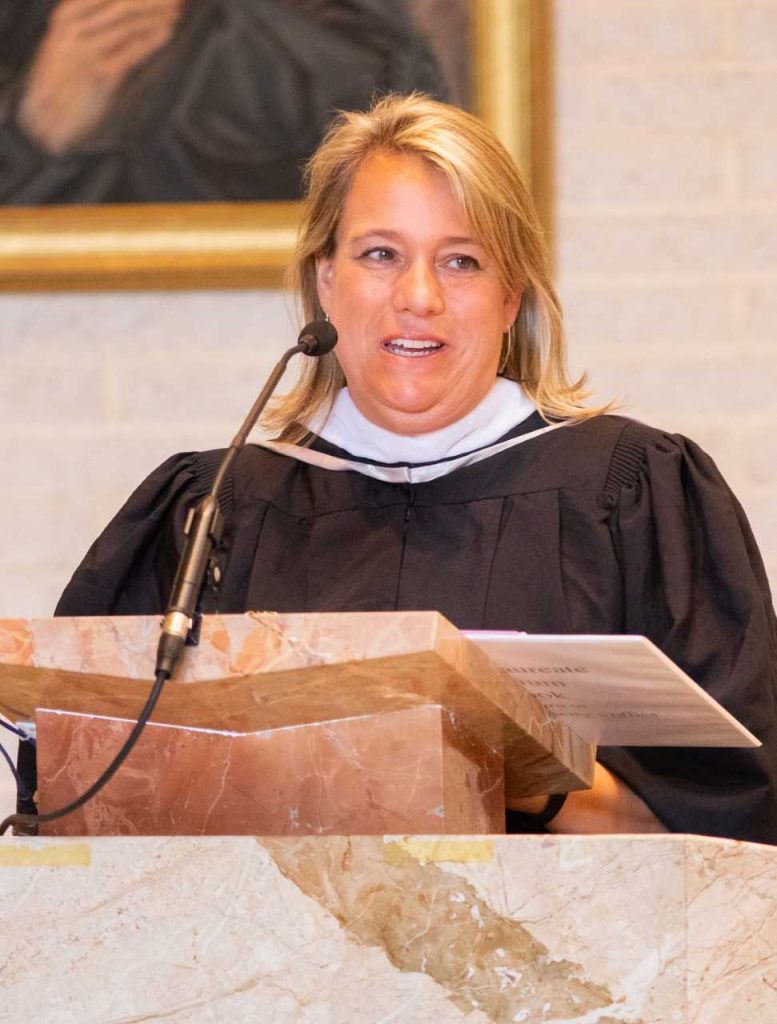 Mar 20, 2023
Dear Bridgton Academy Community,
On behalf of the Board of Trustees, it is my great pleasure to announce that the Board has unanimously voted to hire Diana J. Gleeson as Bridgton Academy's next Head of School. We will formally introduce Diana to the campus community on April 17th and she will start her new role on July 1st of this year.
The board selected Diana as our new Head of School because she is the right person to lead the Academy during the next decade. She has held significant leadership positions at several boarding and day schools over the past thirty years and has worked extensively with postgraduate students. Diana has served as a classroom teacher, dorm parent, coach, student advisor, college counselor, admissions officer and senior administrator. As a former college athlete (Colby College '92, where she played varsity soccer and junior varsity lacrosse for Coach Tom Austin), she understands inherently the critical role athletics play in developing well-rounded, disciplined student-athletes.
Most recently, Diana has served as Assistant Head of School for External Affairs at the Perkiomen School in Pennsburg, Pennsylvania for the past six years. In this role, she has been responsible for creating and implementing a data-driven enrollment and marketing strategy, working with the school's executive leadership, faculty, coaches, alumni, and donors to significantly stabilize and bolster enrollment during her tenure.
Diana visited campus last month to meet with faculty, staff, students and administrators as part of the search process. She made a strong impression during her short time on campus and, just as importantly, the Bridgton community made a strong impression on Diana. After her visit she noted, "Bridgton Academy is truly unique in how it emulates a college environment, while simultaneously providing a scaffolding of support and structure that fosters independence and maturity. When I asked students if it felt like another year of high school, each student at the table emphatically said, 'No!' Bridgton's students know and can articulate why they are there—to excel in 'the year that makes the difference.'"
Diana's selection as Head of School is the culmination of a comprehensive search process undertaken by the Head of School Search Committee, chaired by Board Secretary Paul Carberry with Susan Yule P'11 serving as vice chair.  Other members of the committee were trustees Scott Baker '81; Mark Lufkin '96; Doug Lyons '83, P'13, P'19; and Erin Plummer and faculty/staff representatives Joe Daley '77, P'05, P'09 and Dave LePage P'17, P'21. Board President Vic DiGravio, Vice President Aaron Daly '04 and Treasurer Tom Hall '85 served as ex officio members of the Search Committee.
The committee's work would not have been possible without the thoughtful contributions of faculty, staff, alumni, students, past and present parents, donors, and other friends of the Academy. Under Paul and Susan's leadership, the committee did a tremendous job synthesizing all of the input and using it to guide the committee's work, while carefully reviewing the materials of nearly one hundred candidates.
The Board is excited for what the future holds for Bridgton Academy under Diana's leadership. Please join us in welcoming Diana; her husband Jason; and their children, Maeve and Cooper, to North Bridgton. We are thrilled to have the Gleeson family join our community and for Diana to assume her new role as our Head of School on July 1st.
Sincerely,

Vic DiGravio, President
Board of Trustees
__________
Bridgton Academy has launched a national search to find its next Head of School after Marty Mooney announced he would be departing after the current academic year.
The Board of Trustees is committed to conducting a transparent, inclusive search to find the best individual to lead the Academy over the coming decade and has convened a committee to lead the search for that person. The Search Committee and Board are committed to engaging the broader Academy community throughout the search process. The committee will soon meet with faculty, staff, and students to hear their perspectives on what qualities the next Head of School should possess.
Search Committee:
Paul Carberry, Search Committee Chair, Board Secretary, Trustee
Susan Yule P'11, Search Committee Vice Chair, Trustee
Scott Baker '81, Trustee
Joe Daly '77, P'05, P'09, Director of Operations
Dave Lepage P'17, P'21, Assistant Head of School, Advisory Member
Mark Lufkin '96, Trustee
Doug Lyons '83, P'13, P'19; Trustee
Erin Plummer, Trustee
Search Committee Ex Officio Members:
Vic DiGravio, Board President
Aaron Daly '04, Board Vice President
Tom Hall '85, Board Treasurer
This page will be updated regularly. In the meantime, you are encouraged to share any suggestions or thoughts you may have about the search process by emailing HOSsearch@bridgtonacademy.org.
__________
February 17, 2023
Since our January 6 update, the Head of School Search Committee has continued working vigorously with our search consultants, Carney Sandoe & Associates, to ensure we maintain our considerable momentum in identifying Bridgton's next leader. While this process has moved quickly, it has also been conducted in a careful and deliberate manner.
On February 18 and 19, the Search and Executive Committees of the Board of Trustees will begin interviewing semi-finalist candidates. From those interviews, finalists will be selected and invited to visit campus before spring break.
The candidate pool is composed of accomplished, senior leaders from independent schools across New England and beyond. The breadth and depth of their experience is impressive, as is the abundant enthusiasm they have shared about Bridgton's distinctive mission and culture.
The Search Committee has been greatly encouraged not only by the caliber of applicants, but also by the thoughtful involvement from an array of Bridgton's stakeholders. We are grateful to all who have engaged with the process.
__________
February 10, 2023
Carney, Sandoe & Associates (CS&A), the firm that is helping facilitate the search process has developed a position description for Bridgton's next Head of School. Interested candidates, and anyone who would like to learn more about the position, are encouraged to read more here.
Anyone with questions or feedback about the search should email hossearch@bridgtonacademy.org.
__________
January 6, 2023
You are invited to offer feedback on Bridgton Academy's next Head of School. One of the Search Committee's goals is to gather feedback from as many alumni, current and former parents, faculty/staff, and friends as possible to help identify the characteristics, values, and experiences our next leader should possess.
To that end, you are encouraged to take this brief, anonymous survey, which was developed in partnership with Carney, Sandoe & Associates (CS&A), the firm that is helping facilitate the search process. The results of this survey will help CS&A assemble a pool of highly qualified candidates most likely to lead the Academy successfully in the coming years. The survey will close on Friday, January 20, so please make sure to submit your responses before then to enable your voice to be heard.
Should you have any questions or wish to share additional thoughts on the search, please email hossearch@bridgtonacademy.org.
__________
December 22, 2022
Update
Carney, Sandoe & Associates (CS&A), a nationally respected educational search firm, has been engaged to assist in identifying Bridgton's next leader. Carney Sandoe brings a deep knowledge of independent schools from its 40 plus years of experience in placing school leaders, administrators, and educators. You can read more about CS&A here: www.carneysandoe.com/.
To begin our work in earnest with CS&A, faculty and staff will be asked to provide feedback about the next Head of School via an anonymous survey. Early next month, the Carney Sandoe team will visit campus to meet with as many of our community members as possible to gain an understanding of Bridgton's culture and mission, which will help guide their efforts in the search moving forward. During CS&A's visit, Board President Vic DiGravio and Search Committee Chair Paul Carberry will also meet separately with staff to ensure that communication between the Board and faculty remains open and transparent.
We welcome your feedback on this process; please send an email to HOSsearch@bridgtonacademy.org to share your thoughts.
__________
Founded in 1808, Bridgton Academy is the nation's only postgraduate preparatory program serving young men in the year between high school and college. Bridgton is postgraduate by design. Everything from our student life programming, curriculum development, to academic oversight, are all tailored to have the greatest possible impact on our students. If you, your son, or another young man you know is considering a postgraduate year, as the only school in the country specifically designed for this purpose, Bridgton should be a must on your list. We invite you to discover why this is "The Year That Makes The Difference."