Giving Wolverines Fresh Ways to Learn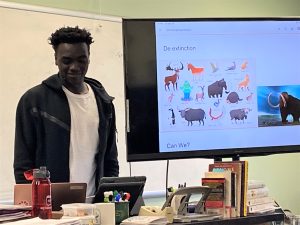 In just a few days Bridgton's classrooms will be empty until next fall, but the Class of 2022 continue to take advantage of a variety of unique opportunities across the curriculum this spring. After a series of projects isolating and mastering basic principles, Mr. Lindberg's Music Production class is putting their work together to create full tracks of their own this week. Meanwhile, Mrs. Meserve's Psychology class caps their journey into human nature with a deep dive into the morbid minds of serial killers. In Mr. Cole's "The Cost of Cool" class on capitalism, students built presentations pitching new events for Red Bull with ideas ranging from jet ski races to intricate drag-racing courses.
Inspired by the classic "Darmok" episode of Star Trek: The Next Generation, Mr. Custer's Science Fiction & Horror Literature communicated exclusively via metaphor for a period to explore the power of figurative language. Mr. Dube's history class spent a week reconstructing the Kennedy assassination to learn how conspiracy thinking emerges and how society processes events of such traumatic magnitude. Finally, Ms. Hanson's CAP Literature students will close out the year presenting TED-style lectures to hone their public speaking skills and test their ability to communicate complex ideas with simple, efficient language. While exams will provide a more conventional opportunity for students to show their academic chops, learning at Bridgton continues to take many forms.