Class of '07 Alumni Deliver Chapel Presentation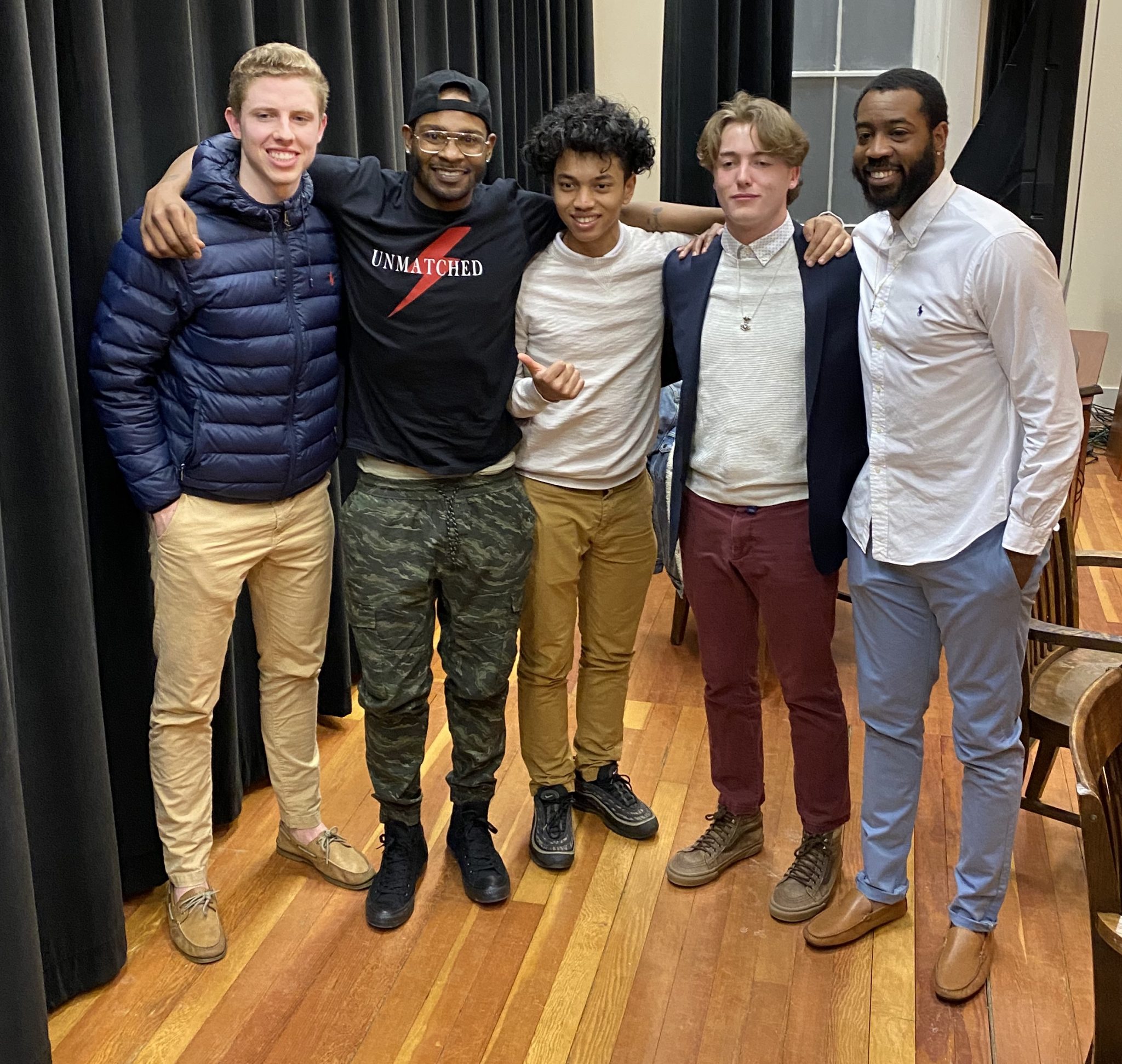 February 26, 2020
On Thursday, January 30th, Bridgton Academy Class of 2007 alumni Greg Hill and Paris Horne took to the Twitchell Memorial Chapel stage to discuss their individual journeys since Bridgton and how the lessons they learned here continue to help them in pursuit of their present-day goals.
Greg and Paris, who have remained close friends in the years since their graduation, are members of the 2006-07 Bridgton basketball team that clinched the NEPSAC AAA title that year and went on to earn the #1 national ranking. Both of these outstanding accomplishments positioned these alumni to achieve their dreams of competing at the collegiate level and beyond.
When chasing dreams, however, things do not always go as planned or desired""a reality Greg and Paris have lived and from which they have learned a great deal. It was in this spirit that they addressed their future alumni brothers and urged the Class of 2020 to embrace the challenges set before them and use the lessons they are learning at BA""grit, perseverance, self-advocacy""to help them overcome their obstacles and define their own success.
In his remarks, Paris shared a bit about his journey to present day, including becoming a standout student-athlete at Division I St. John's University (New York) and going on to compete on a professional level with several European teams. Despite this success, which also found Paris and his teammates earning the coveted prize during the Overseas Elite Basketball Tournament, Paris was not immune to obstacles that could delay his goals of becoming a professional athlete; in this case, it was an injury that prompted him to step back and reassess his next move. Looking at the challenge as an opportunity, though, led Paris to accept a position back at his Academy in North Bridgton coaching alongside his mentor during his year as a student: Whit Lesure. Today, Paris serves as both coach and mentor for our current students""a position that allows him to heal from his injuries so that he is prepared to move on to the next level in his career. "You will always face obstacles in life," shares Paris. "But your dreams are always within your reach if you put forth the effort."
For his part, Greg offered a glimpse into the path that brought him to the man he is today: a father and published author. Like Paris, Greg went on to compete at the highest level of collegiate basketball, playing for Division I Texas Christian University. He explains, however, that the next step he had banked on""an NBA draft""never transpired. A professional basketball career was his "plan A," and Greg admits that no back-up arrangements existed. It was at this time that he realized the value of anticipating challenges and channeled the lessons he learned at BA to help him overcome this unexpected life hurdle. The culmination of his efforts resulted in his first book, It Was Never My Dream, published just this past November.
As Chapel that evening neared its closing, the duo invited Coach Lesure to the stage. Lesure, who coached both Paris and Greg during their championship year at BA, joined the pair in offering a humorous reflection of their time together in North Bridgton and the legacy that the shared experience has had on their lives.
Thank you, Paris and Greg, for imparting your words of wisdom to this year's class, and best wishes from all of us as you continue to realize your dreams""no matter the obstacle.