BA Athletic Recap - Week of 10.29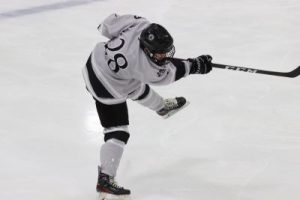 Last week, the Bridgton Academy football team travelled down to Dudley, Massachusetts to face the Nichols College JV team. While the Wolverine attack struggled to move the ball in the first half, strong tackling led by Defensive End Nikhil Webb-Walker (Ipswich, MA) kept Bridgton's confidence high going into halftime 0-0. Quarterback Cole Clarke (Lake George, NY) entered the game for the second half and led the Wolverines to a dominant victory. The ground game opened up as Symon Sathler (Woburn, MA) rushed for 68 yards on six carries while Cole Clarke, Alexander Scavone (Ridgefield, CT), and Deon JeanBaptiste (Jamaica, NY) added rushing touchdowns. Clarke explains the offensive turnaround, "We were playing more relaxed and just went back to the plays that were really working for us. The offensive line did a great job opening holes for our running backs and giving me time to throw." Even the stout Bridgton defense got on the board when Giovanni Rodriguez (Newton, MA) returned an interception 32 yards for another touchdown to cap a convincing 33-0 victory. They'll head south again soon for a November 7 game against Western New England University.
The soccer team also journeyed to Massachusetts to face reigning NEPSAC A Champions Worcester Academy. Worcester proved a tough nut to crack, keeping solid control of the game in the first half and jumping to a 2-0 lead. Bridgton answered early in the second half when Craddock Bridge (Celina, OH) took advantage of a corner kick and directed his header past a sprawling goalkeeper to make it 2-1. The Wolverines kept up the attack but were unable to equalize and Worcester added a late goal to make the final score 3-1. The defeat brings Bridgton's NEPSAC record to 5-1-2 with playoff hopes very much alive. Their next home game falls on November 3 when in-state rivals Hebron Academy come to town.
Bridgton baseball's fall season came to an end with the playoffs of the Showcase League where they fell 2-1 in the semifinals. Starting pitcher Gavin Moss (Brentwood, NH) kept the Showcase Black bats quiet while an RBI from Parker Coleman (Albany, NH) opened the scoring. Reliever AJ Rourke (Medford, MA) put in a strong shift, but Showcase Black was able to put up two late runs to seal the game. Head Coach Aaron Izaryk reflected on the fall season, "This group grew tremendously, almost exponentially, over the course of the fall. The month of October showed great development in team chemistry, which translated to better team play on the field. As we transition into our offseason strength & conditioning program, I am very much looking forward to the spring edition of this talented group."
Bridgton Academy lacrosse played a double header down the road in Standish last weekend, facing St. Joseph's College and the University of Southern Maine. After a slow start in the St. Joseph's game, the Wolverines played a dominant second half, led by the spectacular goaltending of John Kosakowski (Westport, CT) and eight goals from attackman Jacob Costello (Berwick, ME) who explained his success, "Their defense just kept disrespecting me and my teammates did a really good job of finding me when I was open." With tired legs, it took a full team effort to grit out their second victory of the day against Southern Maine. Now 10-1 on the year, Bridgton lacrosse will next travel to New Haven, Connecticut for NXT Lacrosse's Fall Bulldog Bash.
The hockey team played two hard-fought games against the Wilkes-Barre/Scranton Knights in Chalmers Ice Arena. While the Wolverines had a short bench due to injury, their physical play, exceptional goaltending, and relentless effort earned them a pair of victories. Two goals from Stone Devlin (West Falmouth, MA) paved the way for a 5-3 win in the first game of the weekend while Hunter Meader (Vineyard Haven, MA) and Ryan Bartlett (Oswego, NY) both picked up a pair of goals in the rematch. Coach Mike Meserve praised his team's performance, "There are always details to work on, but we played our systems well. We were physical and the effort was strong with so many players out due to injury." They will next take home ice at 7:00 P.M. on November 5 against the New Hampshire Avalanche Under-18 team.
Bridgton basketball opened its season with a scrimmage against Central Maine Community College in the Wolverdome. The teams traded scores early, but some timely threes from Casco native Evan Willey broke the game open and the Wolverines pulled away for a halftime lead of 42-23. Led by a 15-point night by Trace Salton (Lake Oswego, OR), Bridgton controlled the second half for a 96-65 victory that was never in doubt. The Wolverines will be on the road for the month of November, with eyes now fixed on a November 13 game at Vermont Academy. Head Coach Whit Lesure had this to say about his team's opener, "It was a good overall effort by our team this early in the season. Our quality depth was on display and should be a strength of this year's team. The energy in the gym was terrific and made for a fun night, but the real focus right now is working hard to get better."