It's that time of year when the college application process is fast and furious in North Bridgton. With each passing week, more major college deadlines head into the rearview, and college counselors Mrs. Jamie Izaryk and Ms. Kayleigh Lepage have been busy working with each Bridgton student to ensure that their process is moving in a positive direction.
Mrs. Izaryk, Director of College Counseling, reports that over 600 applications have been filed by the Class of 2021. Our Wolverines have applied to over 230 unique colleges and universities across the United States. As spring approaches, a number of students are beginning to hear decisions from their schools of choice.
As always, the College Counseling Office invites students to ring their office victory bell to celebrate acceptances and school commitments, a fun tradition that allows students a moment to "pause for applause."
Izaryk notes that, while still early in the acceptance season, she has seen quite a bit of geographic diversity in student acceptances. Some recent school acceptances include:
Grinnell College
Rensselaer Polytechnic Institute
Clarkson University
Trinity College
Marist College
University of Colorado, Boulder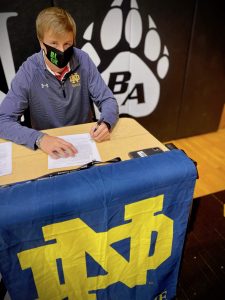 Wittenberg University
Ohio Wesleyan University
The University of Alabama
University of Mississippi
Pictured to the right at his signing with Notre Dame is soccer goalie Liam Egan '21.