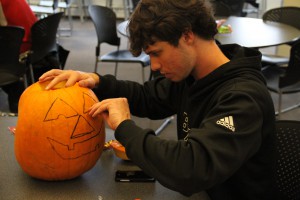 Amanda Miller, LCSW, School Counselor
Advisor Program
Our Advisory Program was developed to serve the unique needs of a student taking an additional year to prepare for college and all the collegiate experience means. Our Advisors are responsible members of the community who serve as your son's caregiver and advocate in all aspects of Academy life, and serve as the essential link between the family and the school. Each student is assigned an advisor, and we work hard to find the right member of the Bridgton Academy Community for each student. We believe that while students should be responsible for their own education, the Advisor is there to promote independence and self advocacy within our students while teaching them to utilize the resources provided to them. The Advisor will monitor your son's progress throughout the year, and act as your primary liaison to the Academy should you have any questions, concerns or information about him that you want someone on campus to know. The advisor may counsel your son on issues such as homesickness or roommate disputes, or they may bring him chicken soup when he's sick or surprise him with a cake on his birthday.
Weekend Programming
Bridgton Academy offers a variety of on- and off-campus activities to our students each weekend. In addition to weekly trips to the local laundromat and in-town church services on Sundays, students can go to local movie theaters or into nearby North Conway, NH for some outlet shopping. Some favorite activities include local hiking expeditions, fishing trips, bowling, sky-diving or taking in a Portland Sea Dogs baseball game.
The Bridgton Academy Bucket List
The Bridgton Academy Bucket List is a compilation of essential life skills and New England experiences that we feel each student should have during their time here at Bridgton. Each student is required to check off at least 20 unique Bucket List items over the course of the year. Not only is it an opportunity for faculty and staff to cross paths with those they may not typically connect with on a daily basis, in the dorm, on the field or in the classroom, it is also an excellent opportunity for students to step outside of their comfort zones and experience something entirely new.
Bridgton Academy Bucket List 2016-2017
Life Skills

Learn to Grill
Make ice cream
Build a fire
Sort, Wash, Fold Laundry
Change a Tire
Learn about Credit Cards
Tie a tie
Go on a Hike
Write a Thank You
Sew a button
Cook a meal
Learn to Iron
Learn to Juggle
Balance a Checkbook
Bake a cake
Learn to gift wrap
Decorate Gingerbread Cookies
Interview Prep
Resume Writing
Learn to Play Chess

New England Experience

Sample New England Foods
Go Canoeing
Go Apple Picking
Eat a Maine Lobster
Fryeburg Fair
Academy Service
Go Snowshoeing
Shawnee Peak- Learn to Ski/ Snowboard
Snowman/ Snowball Fight/ Sledding
Carve a Pumpkin
Ice Skate
Maine Wildlife Park
LL Bean
Ocean Trip
Stargazing
An Overnight at the BA Cabin
Ice Fishing
Leaf Peeping
Sugar House/Maine Maple Sunday
North Conway/Diana's Bath
The Shawnee Peak Ski Program
Bridgton Academy students helped cut the original trails at Shawnee Peak ski area on Pleasant Mountain over 80 years ago, and our relationship with the ski area continues today. All Bridgton Academy students are able to ski at any time during the season, for free, including rental gear. Find out more about Shawnee Peak on their website.
Health Services
Bridgton Academy employs a full time registered nurse and a full time school counselor. We will provide your son with high quality school nursing services, day infirmary care, behavioral and emotional assessments, supportive counseling and treatment coordination, and on-site medical care for minor illnesses and injuries. In addition to the above, Bridgton Academy is fortunate to be located within 5 miles of Bridgton Hospital which is affiliated with Central Maine Medical Center. Questions regarding Health Services here at Bridgton Academy can be directed to our school nurse, Kate Tucker at 207-647-7641 or via email at ktucker@bridgtonacademy.org.