Above: Cleaves hall circa the early 1900s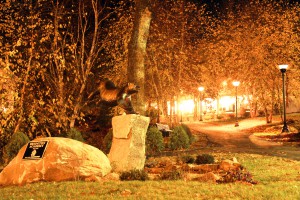 From the original legislative enactment from the Commonwealth of Massachusetts:
"That an Academy shall be, and hereby is, established at Bridgetown in the County of Cumberland…and declared to be, a body politic and corporate, by the name of 'The…Bridgetown Academy."
The name has been modernized, but the institution is the same. Our campus is tucked in next to the northern tip of 11-mile Long Lake, in the village of North Bridgton, Maine. From its perch on Chadbourne Hill, Bridgton Academy has seen scores of young men – each ready to go onto his collegiate experience full of enthusiasm and prepared to embrace his future. Whether it was a young football player looking to maximize his collegiate visibility, or a young man eager to prepare for the rigors of a college workload, there is no other institution with the experience, skill and passion for what we do than Bridgton Academy. We're an opportunity factory that produces college-ready success stories. Are you on board?
Mission Statement
Since 1808 we have been dedicated to our mission which is to "provide a program for young men in a unique, one-year postgraduate environment to prepare for the rigors of college and beyond."
Bridgton Academy consists of an adult community committed to developing the whole student by providing a dynamic and challenging skills-based curriculum, a diverse campus life, and an appropriate extracurricular program to promote mental, social, and physical growth. The Bridgton Academy graduate should have grown through the postgraduate experience so that he enters college with improved confidence, values, judgment, life skills, and maturity to succeed.
Our teachers, coaches, dorm parents, advisors and administration have constant contact with our young men, helping guide them through their year at Bridgton. And our staff continually supports our students, and teaches them to use their own strengths to navigate through challenges, ultimately building self-confidence and self-advocacy.
We are members of the Independent Schools Association of Northern New England (ISANNE) and the National Association of Independent Schools, and are accredited through NEASC.