Faculty Recognized at Commencement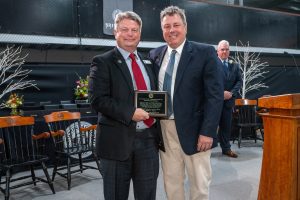 While our Commencement Exercises rightly focus on our graduating Wolverines, they also provide an opportunity to recognize the outstanding contributions of our faculty and staff. The Cole-Dyer Award was created to honor the legacies of longtime Bridgton employees Betty Dyer and Sue Dyer Cole. It is given to two employees (one member of the teaching faculty and one in an administrative role) who consistently display a high degree of professionalism, passion for their work, desire for excellence, loyalty to the school, and a personal and professional commitment to those with whom they worked. This year's winners were Paris Horne '07 and Joe Hemmings. Paris's influence is felt all across campus as a Focused Academic Coach, Dorm Director, and assistant basketball coach. Joe's work as Director of Enrollment Management ensures that the Academy maintains a robust student body of exceptional young men.
The Ray T. McDonald Jr. Award is presented annually by the Board of Trustees in recognition for distinguished service by a trustee or Academy employee. This year, the honor was presented by retired Bridgton legend Peter Gately to his long-time colleague Head Football Coach Rick Marcella who is stepping down from his position after more than three decades of tireless service to the school.