Cooking for a Cause! Class of 2020 Pitches in at Ronald McDonald House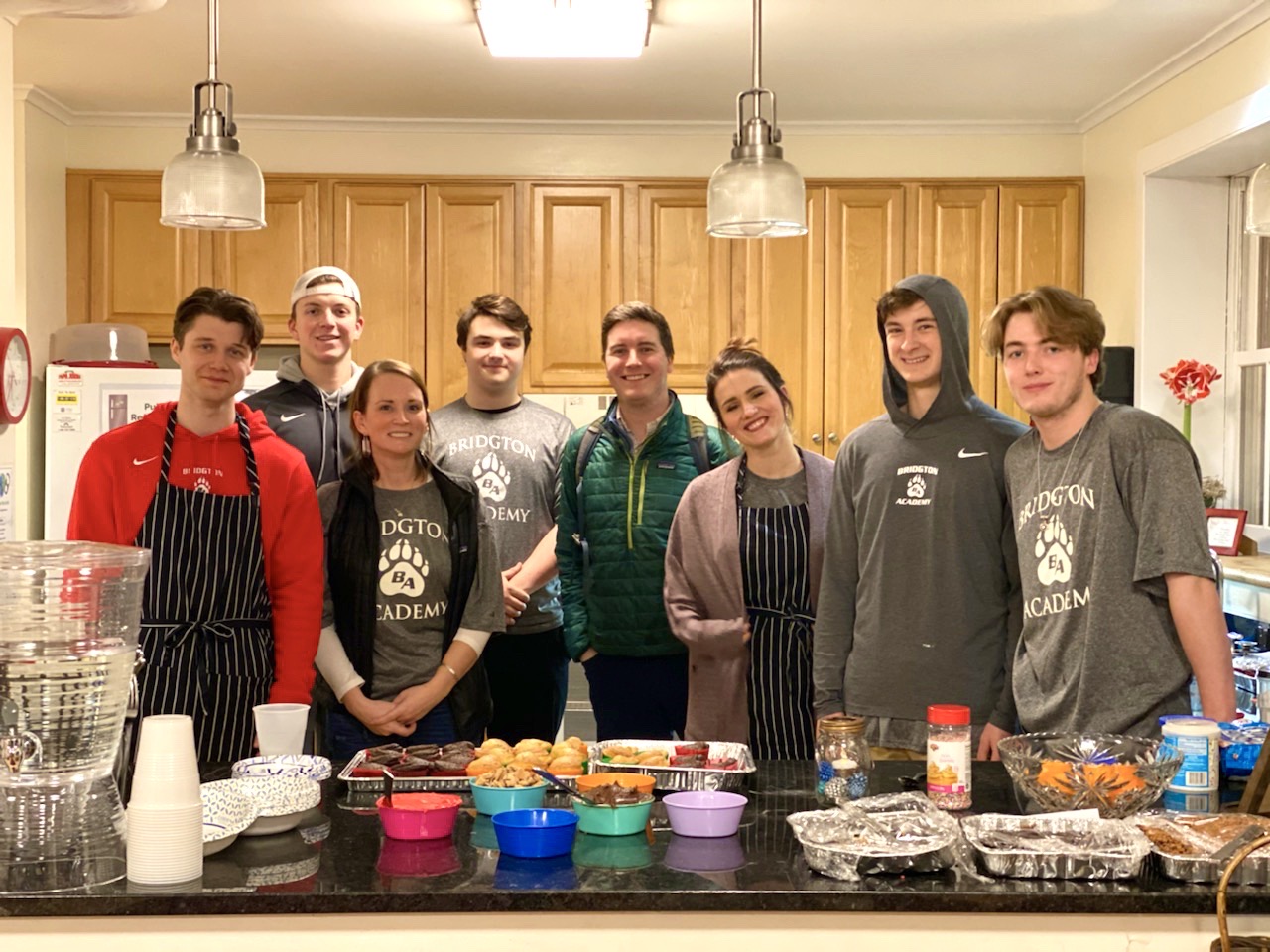 January 30, 2020
Student volunteers joined Ms. Binaca Hanson, Dean of Academics, and Mrs. Kate Tucker, School Nurse, on a trip to the Portland, Maine campus of Ronald McDonald House Charities (RMH). Ronald McDonald Houses throughout the world support families with hospitalized children by providing free-of-charge accommodations, alleviating the burden of hotel costs and allowing families to focus on their child's care.
"My family has benefited from the support and services available at the Ronald McDonald House, as have students and other members of our faculty," shares Hanson, who spearheaded the group's involvement in this opportunity. "Any time we can connect our students to something larger than themselves in the greater world, we are more fully realizing our mission."
This volunteer opportunity was made all the more meaningful when Hanson discovered that her point of contact at RMH is Bridgton alumnus and past employee, Will Groves '12. "To be able to connect Bridgton to such a wonderful organization through not only our volunteer work, but also because we have an alumnus and past employee there is really special," says Hanson.
The group volunteered as guest chefs, with the students devising a menu of comfort foods: Swedish meatballs, au gratin potatoes, egg noodles, steamed carrots, and a garden salad. For dessert, our young men thoughtfully created a cupcake bar that would allow guests to frost and decorate their own after-dinner treats""offering a moment of fun during an otherwise unimaginable time of challenge.
"Right away when I heard about this opportunity, I knew I wanted to help," says Dawson Gundlah '20 (York, ME). Joel Gejer '20 (Stockholm, Sweden) also participated in this volunteer opportunity. "Joel and I""the two Swedes in the kitchen""crafted the most delicious Swedish sauce this side of the Atlantic. It was crafted with love, and we enjoyed every minute," beams Gundlah.
Prior to their guest chef appearance, the group coordinated with Bridgton Academy's Dining Hall staff to do the necessary prep work and glean some helpful advice from these professionals. "We met twice before we went""once to plan the menu and a second time to prep some of the food in the newly renovated Goldsmith Dining Hall," says Hanson. "Joel Kane [Director of Culinary Operations] and the dining hall staff were so amazing and supported the work we did the night before we went down to actually cook. We owe a huge thanks to them!"
Though they did serve some families directly, the group has no idea how many actually benefited from the meal they prepared since many families tend to only return to RMH when visiting hours are over at the hospital. "While I think our students hoped to see more families and talk to
them, they were awesome about going in and doing the work, cleaning up, and, hopefully, leaving the Ronald McDonald House guests feeling seen, known, and cared for," says Hanson.
"I enjoyed spending time with my classmates and teachers," says Spencer Hill '20 (New Albany, OH). "We had a great time in the kitchen at the Ronald Mcdonald House; knowing that we can make a change in people's lives made it an even better time, though."
"It's easy to go out and help others," adds Gundlah. "All it takes is a little initiative and an open heart."
Thank you, gentlemen""you've certainly made your Academy proud!
The following students participated in this volunteer opportunity:
Joel Gejer (Stockholm, Sweden)
Dawson Gundlah (York, ME)
Spencer Hill (New Albany, OH)
Gideon Malherbe (Park City, UT)
Ippolit Matjucha (Sudbury, MA)