NCAA Initial Eligibility Guidelines for Potential Student-Athletes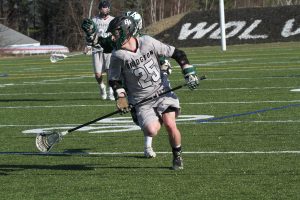 What is the NCAA? The NCAA or National Collegiate Athletic Association serves as the athletics governing body for more than 1,280 colleges, universities, conferences and organizations. The NCAA is committed to the student-athlete and to governing competition in a fair, safe, inclusive, and sportsmanlike manner. In keeping with this mission, they have developed a set of rules and guidelines for athletic eligibility and athletic competition for each of the three NCAA Divisions (Division I, Division II and Division III). Perhaps the key difference among the three divisions is that colleges and universities competing at the Division I and II levels can offer athletic scholarships, while Division III colleges and universities cannot.
What is the NCAA Eligibility Center? The NCAA Eligibility Center is an organization that works with the NCAA to determine a student's eligibility for athletics participation in his first year of college enrollment. Students who want to participate in Division I or II college athletics during their first year of enrollment must register with the Eligibility Center. Feel free to visit the NCAA Eligibility Center's website at www.eligibilitycenter.org for more information.
The NCAA staff follows NCAA bylaws and regulations in analyzing and processing a student's high school academic records, ACT or SAT scores, and key information about amateurism participation to determine the student's initial eligibility.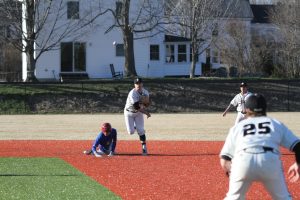 What does this mean to you, as an entering Bridgton Academy student-athlete? Athletics have traditionally played a significant role for many students at the Academy. Competing at the college level is a singular achievement in itself, yet as the demand for athletic scholarships has grown, so too have the NCAA's requirements for eligibility, to the point where potential scholarship athletes must be vigilant of their course selection and grades in high school from freshman year forward. Because of this, we have prepared the following information to help each Bridgton Academy student-athlete in his quest for NCAA eligibility and possible scholarship opportunities. Please note, however, that attending Bridgton Academy does not guarantee NCAA eligibility.
If you have already registered with the Eligibility Center or would like to over the summer, please retain your user name and password so that you may access your information while at Bridgton Academy.
Finally, and as further clarification, Bridgton Academy students do not have to have been certified by or registered with the Eligibility Center to participate in athletics at Bridgton Academy.
If you have any questions regarding the NCAA Initial Eligibility procedures and how to register with the NCAA please do not hesitate to contact Aaron Izaryk, our Athletic Director at (207) 647-3322 ext. 1136 or aizaryk@bridgtonacademy.org.
Division I Academic Eligibility Requirements – 16 Core-Course Standard
If you're first entering a Division I college or university in 2008 or later, your NCAA initial eligibility will be evaluated using the 16 core-course standard. To be classified as a qualifier under this standard, you will need to:
• Graduate from high school
• Successfully complete 16 core courses as listed below:
• 3 years of mathematics (Algebra I or higher)
• 2 years of natural/physical science (1 year of lab if offered by high school)
• 1 year of additional English, mathematics or natural/physical science.
• 2 years of social science
• 4 years of additional courses (from any area above or foreign language, nondoctrinal religion/philosophy)
• Earn a minimum required grade-point average in your core courses, as noted on the NCAA Core
Result Scale – Click Here for more information
Division II Academic Eligibility Requirements
If you're first entering an NCAA Division II College in August 2013 or later and want to be classified a "full qualifier", you are required to:
• Graduate from high school
• Successfully complete 16 core courses listed below:
• 2 years of Math (Algebra I or higher)
• 2 Years of Natural or Physical Science (including one year of lab science if offered by your high school)
• 3 years of additional English, Math or Natural/Physical Science
• 2 years of Social Science
• 4 years of additional courses (from any area above, foreign language, or comparative religion/philosophy)
Earn a GPA of 2.000 (based on a maximum of 4.000) or better in your core courses; and earn a combined SAT
score on the critical reading and math sections of 820 and/or an ACT sum score of 68.
****There is no sliding scale in NCAA Division II****
Guidelines for Registering with the NCAA:
• Register with the NCAA Initial Eligibility Center online at www.eligibilitycenter.org. Please list your high school first and then add Bridgton Academy as a secondary school. Your enrolled entry date is 9/2016 and withdrawal date is 5/2017. Our school code is: 200-720
• Once you have successfully registered, please keep record of your Eligibility Center ID number and/or username and password. You will receive an email from the Eligibility Center upon registration that will contain your ID number.
• Have an official high school transcript sent directly to the Eligibility Center (and remember, you must send one to
Bridgton as well). This document must come from your high school – not from you or from Bridgton Academy. If you have attended multiple high schools since ninth grade, you must submit an official transcript from each school.
• If you have already been certified for eligibility, please bring a copy of your NCAA certification letter so that we may keep it on file.
• If you have an officially diagnosed learning disability, ADD or ADHD please be sure that Bridgton Academy has the most recent copy of this documentation. We will work with you on submitting this to the NCAA for approval.
• Remember to have your high school mail an OFFICIAL final transcript to Bridgton Academy. This will allow us to approximate a core GPA.
PLEASE NOTE: Attending Bridgton Academy does not guarantee NCAA qualification, and it is your responsibility to know your status with the NCAA. While we can make a pre-determination of your status, it is important to note that Bridgton Academy does not represent the NCAA and cannot make final rulings regarding eligibility status.
It is the responsibility of each student-athlete to be aware of NCAA Initial Eligibility guidelines. If you have any questions regarding NCAA Eligibility Center procedures please do not hesitate to contact Aaron Izaryk, our Director of Athletics, at aizaryk@bridgtonacademy.org.