Planning Underway for BA Class of '67's golden reunion this fall!
Attention members of the BA Class of 1967!
It is hard to believe, but it has already been fifty years since your graduation from Bridgton Academy. In preparation for your golden reunion this fall (September 29-October 1), your fellow '67 classmates, Mike Doyle, Tim Armour, George Reid, and Tim Braun are working feverishly to reconnect with each and every one of you – that's a lot of people to contact!
That said, there is no time like the present to relive your days as a BA student and the spirit of brotherhood and solidarity that your class experienced during your year in North Bridgton than by joining forces with these classmates to make your 50th reunion one for the record books!
If you're interested in having fun, reconnecting, and helping to rally your class to attend your 50th reunion and support your class gift effort in honor of this once-in-a-lifetime occasion, then helping out as a Class Representative may be the perfect fit for you! For more information, please contact Sarah Gaines (sgaines@bridgtonacademy.org / 207-647-3322 ext. 1213).
Reunion Information
Your Class of '67 reunion will take place during Homecoming Weekend, September 29 – October 1, 2017.
Additional information, including an official invitation and detailed registration information is forthcoming. In the meantime, please click here for a peek at the program of events to date!
P.S. Fall in Maine is always a beautiful sight – and this is not a secret!  Area accommodations fill up very quickly this time of year. We highly recommend that reservations for area lodging be made as soon as possible!
We look forward to welcoming you back to campus this fall!
Class Gift Information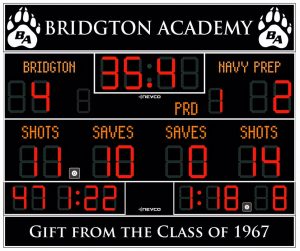 To honor this incredible milestone reunion year, your Class of '67 is working toward a goal of raising the funds necessary to build a much-needed multi-sport scoreboard for your Academy's athletic facilities. Not only will this scoreboard (pictured at right) help usher in a new era of athletics at Bridgton, recognition of your Class of '67 will be placed prominently on the scoreboard itself, offering a reminder to all that the spirit of your class will endure for decades of future Bridgton Academy student-athletes and their families.
Finally, the names of all individual contributors to the 1967 50th Reunion Class Gift effort will be engraved on a nearby plaque.
The Class of 1967 is working towards raising $17,500 (65% of the total cost of the scoreboard). To date, they have raised $13,900!