Bridgton Academy Class Notes
Written and Compiled by Sarah Gaines
Welcome to Bridgton Academy Class Notes, an exclusively digital addendum to the biannual publication of our print newsletter, Bridgton Academy Today! We invite you to read on to see what some of your fellow Bridgton alumni and friends have been up to. Don't see your name? Reconnect with your Academy so that we can celebrate your achievements as well! You may also share your story with us directly by contacting Sarah Gaines at (207) 647-3322 (ext. 1213) / sgaines@bridgtonacademy.org. We hope to see your story listed below in our next edition!
1930s
1939
Rachel Rice Deans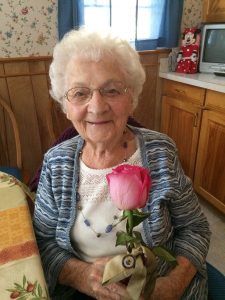 This past fall, Rachel was honored for 75 years in nursing by the Mercy Hospital Alumni Association. Rachel, who was made an honorary Mercy Hospital alumna thirty years ago, officially retired from nursing in 1985 but has remained a steadfast contributor to the profession and those who are working towards following in her career footsteps. Congratulations, Rachel!**
**We are very saddened to report that Rachel passed away several weeks later on December 17, 2018.
1950s
1954
Carol Wenmark
It is always wonderful to hear from Carol, who reports that she remains as busy as ever at her home in Lunenburg, Vermont. In addition to her fundraising work with the Lunenburg Historical Society and Top of the Common, Carol plays the organ at her local Methodist church, serves as a substitute bus driver for Meals on Wheels, and is looking forward to returning to her Academy for her Class of 1954's 65-year reunion. We can't wait to welcome you back, Carol!
1956
George Radachowsky
We extend a hearty congratulations to George, who was inducted into the Danbury High School Athletic Hall of Fame this past fall. George became a legend in his own right during the autumn of 1954—his senior year at Danbury High—after scoring twelve touchdowns and sealing the first and only undefeated and untied football season in the school's history. "Mr. Touchdown," as he is known, was also a three-year starter for his high school's basketball team. George lives in Danbury, Connecticut, with his wife, Carol. They have four grown children and eight grandchildren.  
1970s
1971
Richard Kelley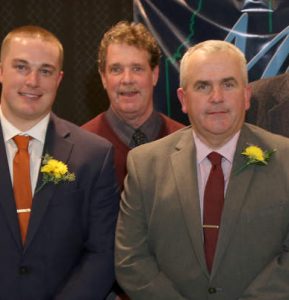 We are excited for Richard (center), who was inducted into the Midcoast Sports Hall of Fame this summer! Richard—a Maine native—was honored for his outstanding performance as an athlete during his years as a student-athlete in high school, at Bridgton Academy, and the University of Maine (Orono), as well as during his service with the United States Navy. Congratulations on this well-deserved accolade, Richard!
1980s
1980
Admiral John C. Aquilino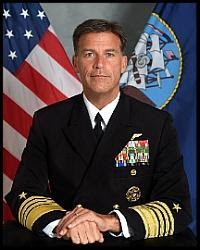 We were humbled and proud to learn that this distinguished Bridgton alumnus was asked to serve as an honorary pall bearer at the funeral of President George H.W. Bush in December. Admiral Aquilino is currently the Commander of the U.S. Pacific Fleet at Joint Base Pearl Harbor-Hickam in Hawaii—the fleet's 36th commander since the establishment of Pearl Harbor Headquarters in 1941.
Prior to this extraordinary appointment, Aquilino served in numerous fighter squadrons with the United States Navy, including assignments with the Ghost Riders of Fighter Squadron 142 and the Black Aces of VF-41. He also commanded the World Famous Red Rippers of VF-11, Carrier Air Wing 2, and Carrier Strike Group 2. His deployments in service of our country include Operation Deny Flight, Enduring Freedom, and Iraqi Freedom. When he is on land, Aquilino's duties involve serving as an adversary instructor pilot, Special Assistant for Weapons Systems and Advanced Deployment in the Office of Legislative Affairs for the Secretary of Defense, and Executive Assistant to the Commander of the U.S. Fleet Forces Command.
After completing his year at Bridgton, Admiral Aquilino attended the United States Naval Academy, graduating in 1984 with a degree in physics. He then went on to flight training, earning his wings in August 1986. He eventually graduated from Navy Fighter Weapons School (TOPGUN), the Joint Forces Staff College, and the Harvard Kennedy School's Executive Education Program in National and International Security.
1987
Mark Carlson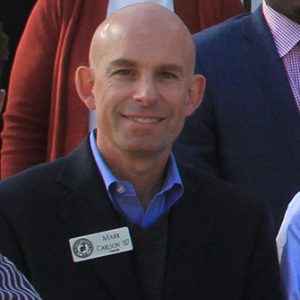 We are proud of Mark, who is also a member of the Bridgton Academy Board of Trustees, for being honored as part of the TIAA Difference Maker 100 program! Mark is the president and executive director of the Children's Center for Communication/Beverly School for the Deaf (CCCBSD) in Beverly, MA. The school provides specialized academic programming to nearly 100 students (aged 3 – 22) who have communication, physical, and/or developmental challenges. Under his leadership, CCCBSD has helped to expand the over 140-year-old school, building on its strengths and enhancing its important mission. The school now serves learners who are on the autism spectrum or living with cerebral palsy or other developmental and/or physical challenges—all while increasing the students' use of technology in order to boost their learning experience and achieve a higher level of long-term independence. 
1990s
1994
Matthew Ehrlich
Matt reports that life has been quite busy these days between managing his family's company, running lacrosse organizations, and keeping up with his kids' (12 and 9 years old) activities. Sounds busy indeed, Matt—keep up the great work!
1996
Stephen Matthews
A big congratulations to Steve, who was named the head varsity boys basketball coach at Newton South High School in Newton, Massachusetts. "It's a terrific league and Division 1 South is loaded," Steve shared with his local newspaper. "It will be a challenge to bring us to the top, but I am excited about the challenge. I can't wait to get started." Best wishes for your inaugural season at the helm, Steve!
2000s
2004
Mike Whitticom
Mike is currently a principal and member of TrueBridge Capital Partners, where he works on the investment team and focuses on due diligence, deal flow, and industry analysis. Prior to his career at TrueBridge, Mike was an associate and founding member of the Berkeley Endowment Management Company, conducting due diligence and recommending investments as part of a five-person team. Mike also previously spent a number of years as an investment adviser in Boston with both Partners Capital Investment Group and Cambridge Associates, advising on client portfolios and evaluating potential and existing managers. Following his graduation from Bridgton, Mike went on to study at Dartmouth College as a football student-athlete, earning his bachelor's degree and eventually his master's degree from Dartmouth's Tuck School of Business. Well done, Mike—keep up the great work!
2006
Jordan Stevens
We are very proud of Jordan, who is now the co-defensive coordinator and linebackers' mentor for the Yale University football team! Following his year at Bridgton Academy, Jordan went on to accomplish his dream of becoming a Division I student-athlete at the University of Maine, where he played football for the Black Bears. During this time, Jordan earned All-New England honors, served as captain (2009), and helped to lead the team to the 2008 NCAA playoffs. He then went on to play one year for the Hartford Colonials (United Football League) and eventually joined the Georgia Force (Arena Football League) before he set his sights on coaching. Well done, Jordan—keep up the great work!
2011
Thomas Garofano
We were thrilled to hear that Thomas and his wife, Jessica, welcomed a new addition to their family in August: Thomas James Garofano Jr!
2013
Kamahl Walker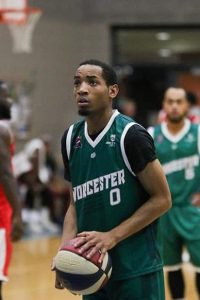 Since his graduation from Bridgton Academy, Kamahl has continued to make a name for himself both on the court and off. Following his success as a basketball student-athlete at Bridgton, Kamahl went on to become a standout at Endicott College, where he was a 1,000-point scorer. Since completing his studies at Endicott with a major in sports management, Kamahl has moved on to his next adventure: a professional basketball player for the Worcester 78s of the American Basketball Association. Congratulations, Kamahl, and best wishes for continued success!
2014
Dan Fontaine
Kudos to Dan, who earned his bachelor of science degrees in sports management and accounting earlier this year! After his year at Bridgton, Dan matriculated at Sacred Heart University, graduating cum laude, and as a GPA silver medalist in his selected area of study. We are sure you will go on to achieve greatness, Dan—congratulations!
Robert Harris
We are very happy for Robbie, who we hear is now the general manager of both Skip's Comeback Inn (Flushing, Michigan) and Midway Bar (Lennon, Michigan). Way to go, Robbie!
2015
Ben Caples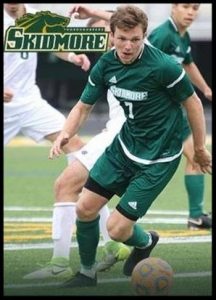 Congratulations to Ben, who was recently named to the All-Liberty League second team after a vote by the league's coaches in early November. The Liberty League is an intercollegiate athletic conference affiliated with the NCAA's Division III; all member schools are located in the state of New York. Ben, a soccer student-athlete at Skidmore College, is a forward/defender for the Thoroughbreds.
As a senior, this fall marked the final season of Ben's collegiate soccer career, which culminated with his receipt of the All-League award. Ben is credited with leading his team and being a league standout in scoring. He completed his career at Skidmore with twenty-six points on five goals and sixteen assists. The Skidmore soccer team advanced to the Liberty League Tournament this year for the fourth consecutive season.
Well done, Ben, and best wishes for continued success as you prepare for your next steps after graduation this spring!
2017
Seamus Leary
We're proud of Seamus, who was named Northeast-10 (NE-10) Rookie of the Week earlier this year. A sophomore at Bentley University, Seamus had a particularly remarkable game this past season, which he entered with the Bentley Falcons down 16-0. Seamus completed 10 of 13 pass attempts for 117 yards and a touchdown and also rushed for a touchdown to lead his team to a 24-22 victory. Well done, Seamus!
Niadré Zouzoua
Hard work certainly does pay off! Congratulations to Niadré, who recently achieved his dreams of playing Division I college football! After enrolling as a student-athlete at Monroe College (New Rochelle, NY) following his year at Bridgton, Niadré continued to work tirelessly toward his goal, consistently improving his athletic and academic skills. His tenacity eventually translated to a scholarship offer from Baylor University in Texas, where he will play defensive end his final two seasons in the Big 12 Conference. Way to go, Niadré—we are so proud of you!
Friends of the Academy
Matt Burke
Two years after first beginning his football coaching career, which started at Bridgton Academy, Matt went on to coach at Harvard University and Boston College. After earning his undergraduate degree (psychology) at Dartmouth University and his master's degree in education from Boston College, Matt went on to join the NFL, starting as an administrative assistant for the Tennessee Titans in 2004. Five seasons later, he was promoted to teaching players on the field. He eventually made his way to Detroit, where he coached linebackers for five seasons before going on to coach the same position of play for Detroit and Cincinnati. By 2016, Matt found himself as the linebackers coach for the Miami Dolphins. Last season, however, Matt was promoted and is now the team's defensive coordinator. Congratulations, Matt!
+++
We congratulate all of our Bridgton Academy alumni who graduated from college in December and send our best wishes to each of them as they embark on their newest adventure!  Good luck, gentlemen!
+++
Snapshots
Mike Whitticom '04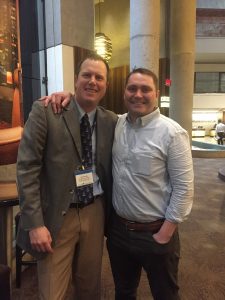 Wolverines pop up in the most random places! Picture it: a cramped elevator in Los Angeles, where several boarding school professionals are discussing private education. A man enters at one of the floors; he glances at BA's Director of Admission, Chris Webb. As the elevator continues its ascent, the word Bridgton Academy is mentioned. Stunned, the newest arrival on the elevator exclaims, "I went to BA!" Gasps of disbelief ripple through the enclosed elevator car. This "surprise alumnus visit" was brought to us by Mike Whitticom '04, who joined Chris for a coffee later that day, where they became reacquainted and took the opportunity to catch up on all-things Bridgton Academy. Thanks for making your presence known, Mike!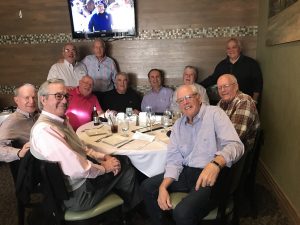 On Saturday, November 3rd, members of the Class of 1965 gathered at Patriot Place in Foxboro, Massachusetts to celebrate a "mini reunion"—their second such annual get together after reconnecting for their 50-year reunion in 2015. Joined with their spouses, the gathering kicked off by paying tribute to their deceased classmates by reading their names aloud, followed by a moment of silence. From there, guests caught up on the years gone by, the years to come, and how their shared experience at Bridgton Academy is woven throughout. The group hopes to continue this annual tradition by expanding their circle of '65 alumni, with classmates as far away as Arizona already making their arrangements to travel to New England next November. We're so glad to know "the spirit of '65" remains as strong as ever and wish the Bridgton Academy Class of 1965 many more years of good times and get-togethers in the years to come.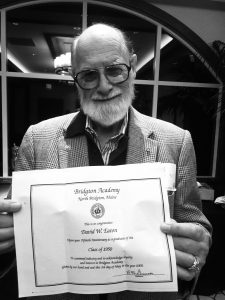 It was wonderful to see Dave Eaton '50 at Bridgton Academy's Past, Present, and Future Wolverine Gathering in Costa Mesa, California this past fall. Here, Dave proudly displays the certificate he received in 2000 in honor of the half-century milestone since his graduation from the Academy. Thanks for joining us, Dave!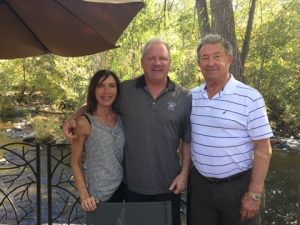 Reunited! Legendary BA coach and faculty member, Tom Austin, and his wife, Faye, (former BA dorm parent) traveled west this past fall to visit Terry McDonough '85, Vice President, Player Personnel of the Arizona Cardinals. Here, Terry his pictured with his wife, Lynette, and Coach Austin.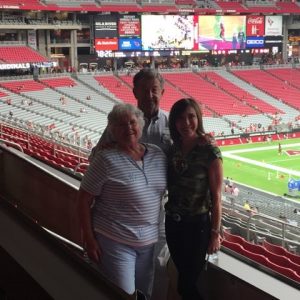 For many alumni, their Bridgton Academy journey was punctuated by their experiences with Coach Austin and his wife, Faye, who served as dorm parents for many years in addition to Coach Austin's duties in the classroom, on the field, and as an administrator. Here, Coach Austin and Faye are pictured during their recent trip to visit Terry McDonough '85.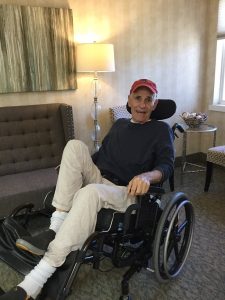 Go Sox! Here, David Petri '55 gets ready to watch his beloved Sox take on the Dodgers in the 2018 World Series. Lookin' good, David!
A future Wolverine! Luca Donnelly, son of Brendan Donnelly '15, shows his BA pride! (pictured with his grandmother Melissa Shampine, P '15)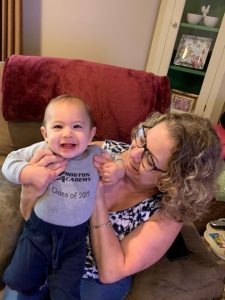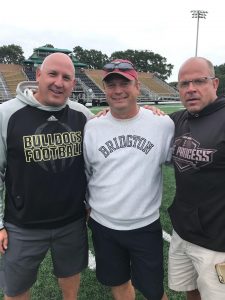 Return of the Wyonegonic residents, who bumped into each other earlier in the fall when Bridgton Academy Football took on Bryant University. Pictured from left to right: John Marino '88, Matt Burgess '88, and Mark Flynn '88.
Fun to Know!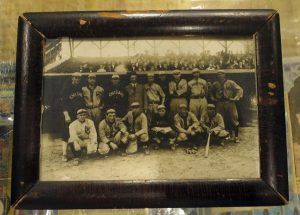 Earlier this year, items belonging to Bridgton Academy alumnus (early 1900s) Harry Lord were auctioned off by Saco River Auctions in Biddeford, Maine. After his graduations from Bridgton Academy and Bates College, Harry became the third baseman for the Boston Americans and a founding member of the Boston Red Sox. By 1910, Harry became one of the first captains of this famed team before joining the White Sox. "[Harry Lord] was considered one of the fastest men in baseball at the time," Troy Thibodeau of Saco River Auctions shared with the Sun-Journal earlier this year. "He was once clocked running from home plate to first base in about 3½ seconds, which is speedy even by modern standards."
Harry eventually returned to Maine, where it is reported that he owned a grocery store and was elected to the Maine House as a Republican. Other reports mention that he was head baseball coach at his alma mater, Bates College, shortly after resettling in Maine. He passed away in 1948. After the death of his grandson last year, these family heirlooms and historical treasures were sold and eventually made their way to auction. There are so many untold stories woven throughout Bridgton Academy's 210-year history, and we remain humbled to be able to build upon this … as we enter our 211thyear. 
Did you know?
If you graduated in a year ending in a 9 or a 4, then your class will be celebrating a milestone reunion this fall!  Please contact Sarah Gaines in Bridgton's Office of Institutional Advancement to learn more about how you can help your class celebrate this extra-special occasion!(sgaines@bridgtonacademy.org/ 207-647-3322 ext. 1213)
Bridgton Academy is currently accepting nominations for its 2019 Hall of Fame Class! If you know of alumni or friends of Bridgton Academy who have distinguished themselves in their chosen profession or community, make sure to let us know! Click here for more information, and to complete the nomination form, you can click here. Please submit all Hall of Fame nominations to Michelle Cross (mcross@bridgtonacademy.org) no later than January 25, 2019. The 2019 Bridgton Academy Hall of Fame induction ceremony will be held in the Chalmers Ice Arena (on upper campus) on Sunday, April 28th. Additional information will be forthcoming.
+++
IN MEMORIAM
We are saddened to report the passing of the following Bridgton Academy alumni and friends:
Philip Allen '54, Myrna Colicchio '47, Joseph Deane '14, Rachel Rice Deans '39, David Gretkowski '83, E. James Grip '67, John Irving '69, Mark Jepson '02, Ronald Nelson '63, Andrew Nickerson '07, Adam O'Keefe '02