Bridgton Academy Health Center
Health Center: General Information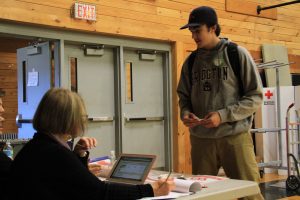 Bridgton Academy employs a full-time RN on campus to meet the medical needs for our students during school hours. The athletic trainer and the school nurse coordinate all health care for the students, including setting up doctor appointments and filling prescriptions.
Bridgton Academy has an agreement with North Bridgton Family Practice located just down the hill from the campus when further medical attention is needed.
Students are allowed to keep medications in their room (prescription and non-prescription meds).
Prescription needs:
• Students must have an insurance prescription card and co-payment with him. The co-payment can be made by cash or credit card.
• A prescription from your physician is also required for any existing medication you may need filled.
Controlled substance prescription refills:
Prescriptions need to be presented, in person, to the pharmacy in paper form. An easier way to alleviate issues is to set up an appointment with the MD we utilize, Dr. Jennifer Smith, to follow your student medication needs throughout the school year. This will encourage and teach responsibility for medication management in preparation for college next year.
Each dorm room has a locked box to use for medication storage. The Health Center will store and dispense medication, but encourage students to become independent in preparing for next year.
Online Health Registration:
At Bridgton Academy, we have added online health registration through Magnus Health Portal. Prior to August 1st, you will receive an email from Magnus which will provide you with a username and password. Please log in and follow all instructions for completing ALL necessary health forms.
Requirements:
• All students are required to have, and maintain, health insurance coverage during their year at Bridgton Academy.
• A physical examination needs to have been completed within ONE YEAR prior to entering Bridgton Academy. The form must be signed by a M.D., D.O., PA, or nurse practitioner.
In order to participate in school activities and athletics it is mandatory that heath registration via Magnus is completed PRIOR to Registration Day which includes proof of health insurance and a physical within the last 12 months.