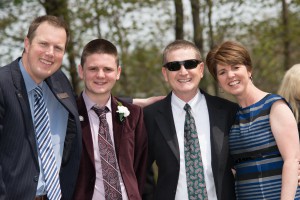 Meet Chris Webb, Chief Enrollment and Advancement Officer
First of all, welcome! We are excited and energized that you have an interest in Bridgton Academy. Here at Bridgton, our goal is to help our students develop the academic skills, study skills, self-discipline, maturity and self-confidence necessary to succeed in college, rather than just to survive it.
There are nearly 100 boarding schools in New England, but there is only one postgraduate-only institution that has been building college-ready success stories for over 200 years. Which sounds fantastic, sure, but why should Bridgton Academy be your choice for a postgraduate education?
Because the United States Department of Education reports that more than half of all male students who begin college never complete it – and most withdrawals occur during the freshman year. Of those who do complete a bachelor's degree, only 34 percent do so within four years; the average amount of time in which students are earning these degrees is 6 years.
Bridgton Academy alums report a college retention rate of 70 percent, earning their bachelor's degree in an average of 4.5 years.
Talk to an admissions officer – they are coaches, teachers, dorm parents and advisers. They're on the front lines of Bridgton Academy, and every day are involved with the students they recruit, interview and accept at BA. Quite simply, there is no better introduction to BA than through our admissions officers.
Bridgton Academy has a rolling admission policy.
We seek to enroll quality students with the ability to meet the demands of our program successfully and with the desire to contribute to the Academy by participating in all aspects of campus life.
The admission process at Bridgton Academy is designed to be an exchange of information between the young man and the Admission Committee. Therefore, we invite prospective students and their families to visit our campus for a tour and interview. This visit provides an opportunity for the family to learn first-hand what makes the Bridgton community a dynamic environment of open, warm, and talented people, and for the Admission Committee to learn about the personal qualities and goals of the candidate.
In making an admission decision, Bridgton Academy considers not only a candidate's high school grades and SAT or ACT scores, but also his:
motivation to pursue a postgraduate year
potential to succeed in the Bridgton Academy program
commitment to this program
character
To make this determination, the following steps are required of all applicants:
Application Steps
Call or write to the Admission Office, or complete the online inquiry form to request an application.
Schedule an interview at Bridgton Academy with the Admission Office. Interviews are conducted Monday through Friday, beginning at 8:00 a.m. The visit begins with a guided tour by a student, and concludes after the interview with an admission officer. Candidates interested in playing a particular sport may meet with the coach during the visit also. Typically, a visit lasts for two hours.
Complete and mail the following forms to the Admission Office:
— Application, including the essay or use our Online Application
— High school transcript
— English teacher recommendation
— Math teacher recommendation
— Character reference
— SAT or ACT scores
If applying for financial aid, complete and mail either the School and Student Service Parents' Financial Statement (PFS) or the College Scholarship Service (CSS) PROFILE form as soon as possible after January 1st.
Accepted Students
Congratulations! You've been accepted to Bridgton Academy. So now what?
In your acceptance package you should have received an enrollment agreement. This should be signed by you and your parent or parents and returned with your enrollment deposit* in the envelope provided by the due date indicated in your acceptance letter. If you have been awarded a financial aid package, you should sign the award letter and send that back to us as soon as possible. If you are interested in obtaining financial aid but have not yet filed, please do so as soon as possible as financial aid is based on need and is awarded on a first-come, first served basis.
*Typically, the enrollment deposit is $3,000.
Financial aid is based on need and is awarded on a first-come, first-served basis.